INTERMODAL SERVICES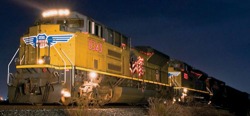 ■ Brokerage
■ Double Stack Equipment 48'/53'
■ Ocean Containers 40'/45'
■ Pro-Active Monitoring of Shipments
■ Damage Prevention Program

When you require innovative solutions to your toughest transportation challenges, look to Red River. We offer a range of cost-effective services that allow you to economically deliver your goods to market and improve your bottom line. Red River collaborates with its customers on a daily basis to help them meet their transportation challenges. We can customize services that fit your needs. Call us!


---
Red River Intermodal, LLC, 2285 Benton Road, Suite A201, Bossier City, LA 71111-3554
Toll Free (800) 256-8131 Phone (318) 686-2020 Fax (318) 683-0195 E-mail
crenshaw@rrii.com
© 2012- Red River Intermodal, LLC - All Rights Reserved